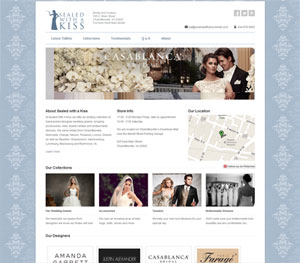 Sealed With a Kiss Bridal - 2013

West Main Bridal 2006

West Main Bridal - original site
Sealed With a Kiss is a stylish bridal salon with locations in Charlottesville and Richmond, VA offering friendly service and a caring, personal experience for the bride.
This was a redesign project. Twice! The original site was dark and heavy in tone and style, but the shop is light and airy. They wanted their site to reflect that.
In 2006, the store was called West Main Bridal & Couture. We changed the color scheme, used images from a recent photo shoot and tightened up the existing copy.
They've changed locations a few times over the years, and in 2013 they changed their name and wanted a new look and a new site. So we started over. We are proud that we leveraged what they were already doing on social media as content for their site. We turned their Facebook posts into a blog, and are using what they post on Pinterest throughout the site. We grab their Tweets. So they just keep doing what they're doing, and the site auto-magically updates!
Here is what they said:
"drw Design has worked wonders with our websites. We have found their expertise to be excellent in getting the job done right first time. Their design is uncluttered, aesthetically pleasing and easy to use. Much recommended!"
–Susan Sorbello
Owner, Sealed With a Kiss Bridal