Oakland School - current site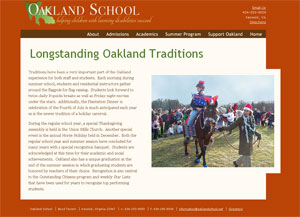 Oakland School - 2009-2014

Oakland School - 2002-2009

Oakland School - original site
Oakland School is a small co-ed boarding and day school that enables children who have dyslexia, learning disabilities, or organizational and study skills difficulties to reach their academic and personal potential.
Originally, this was a makeover project. The past versions of the site were made by either volunteers or amateurs. See the "before" (shown at the bottom). We created version 1 of the site in 2002.
In 2007, they were still happy with the design, but we did a major code and technology upgrade, redesigned the home page to include a slide show and a video, and put them into a content management system.
In 2009, what started as a few tweaks turned into an entire redesign. We had a new appreciation for how lively and warm the color orange can be. The site's layout was more contemporary, with big bold images.
In 2014, they came back to drw Design for another redesign. This time around, it's bigger and bolder, uses an updated color scheme with lots of nice slideshows and images of all the happenings at Oakland. We're also outputting their Facebook feed