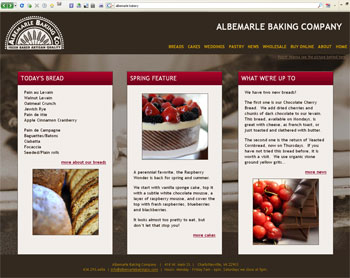 Albemarle Baking Company - after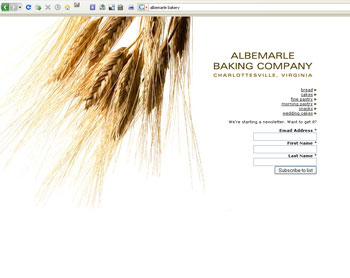 Albemarle Baking Company - before
Albemarle Baking Company, located in Charlottesville, Virginia, makes the finest breads and pastries we've ever had. Period.
The food is so beautiful customers comment that it looks fake. Everything tastes as good as it looks because of an obsessive attitude about using the best ingredients and a commitment to artisan quality on the part of the owners and their staff.
drw Design created the original site circa 2003. A very simple layout with some nice stock photography, it served the bakery pretty well for six years.
In 2009, we gave this site an extreme makeover. We used stunning photography of the actual food, created a more dramatic, chocolatey color scheme, and put it all in a content management system so the site can now be maintained by in-house staff.
In 2013, we added their Facebook feed—all reformatted to look like their site—so we could show the mouth-watering photos they post!