Advanced Network Systems - current site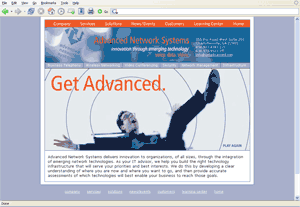 Advanced Network Systems - 2005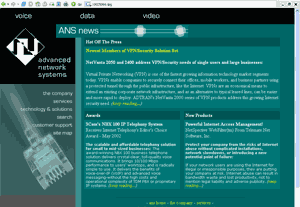 Advanced Network Systems - original site
Advanced Network Systems provides voice and data networking solutions that connect organizations of every size to their employees, customers and suppliers. The company designs, implements and supports a wide range of emerging network technologies including IP-based telephony and videoconferencing, wireless, security, network management, infrastructure and storage.
This was a redesign project. Twice!
The original site was created circa 2000.
In 2005, the company updated their print materials and approached drw Design with a redesign project based on their new look. We used their brochure as the starting point for their new site and completely overhauled the navigation and architecture.
drw Design maintained the site after we created it, and five years later they asked us for another redesign.
They wanted a cool, clean, open feel, which we were happy to create. This time, we put the site into a content management system so they could maintain it in-house.
Here is what they wrote:
"In choosing drw Design for my website re-design, I feel like I really got it ALL. Expert advice. Responsive service. A quality product that met our set objectives for effective communication, visual continuity and ease of use. I could not ask for a better strategic partner in our marketing efforts."

Lorri Haney
Vice President
Advanced Network Systems